HPEC Book Club 2021
HPEC will be launching a BookClub in the New Year! If you're interested in participating in a one-time zoom discussion and/or joining our HPEC Book Club FB group, please complete the form in the link below and we will mail THE FIRST 150 HPEC MEMBERS a FREE copy of When Are We Going To Teach Health?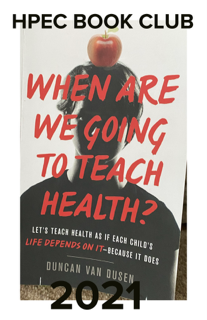 HPEC Annual Conference UPDATE


Due to evolving concerns over the fast moving situation with coronavirus COVID-19, the HPEC Annual Conference in Lethbridge scheduled for April 30th-May 2nd has been postponed to 2021.
Full Announcement here | HPEC 2020 Conference in Lethbridge | Postponed
A chance for Free PD!
Looking for some upcoming HPE and CSH PD?? HPEC will pay for your EvervActive Schools, Shaping the Future virtual conference registration! Sign up here: https://forms.gle/jedHawv4k9c9F2ZJ6. First come, first served, maximum 40 members. Ready, Set, GO!
HPEC Member Engagement Survey
Do you want to win a free registration for the HPEC 2020 Conference in Lethbridge? Fill out our HPEC Member Engagement Survey. HPEC is looking for member input to inform our planning over the next few years. Your insights will help us tailor our website content, plan regional drive-in workshops, and plan an annual conference that better meet your needs. Please take 5-10 minutes to complete this survey and you will be eligible to win one of three free registrations at the HPEC 2020 Conference in Lethbridge! Deadline to complete the survey is March 1, 2020.
Survey Link:
https://docs.google.com/forms/d/e/1FAIpQLSc7Sk8Ay-MLdGoQQ-sA-gWgTHdYYKT6Gy6-CnjJeGg1Icbw-g/viewform?usp=sf_link
Conferences & Workshops

HPEC offers local workshops available to members throughout the province throughout the year.




Resources


We have newsletters, journals, and various publications with valuable information about health and education.

Awards & Grants


We offer many awards and grants. Check them out to see if you qualify!