HPEC Book Club 2021
HPEC will be launching a BookClub in the New Year! If you're interested in participating in a one-time zoom discussion and/or joining our HPEC Book Club FB group, please complete the form in the link below and we will mail THE FIRST 150 HPEC MEMBERS a FREE copy of When Are We Going To Teach Health?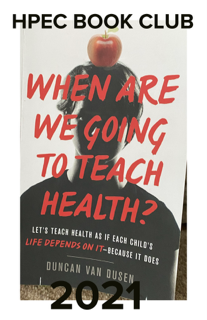 HPEC Annual Conference UPDATE


Due to evolving concerns over the fast moving situation with coronavirus COVID-19, the HPEC Annual Conference in Lethbridge scheduled for April 30th-May 2nd has been postponed to 2021.
Full Announcement here | HPEC 2020 Conference in Lethbridge | Postponed
Conferences & Workshops

HPEC offers local workshops available to members throughout the province throughout the year.




Resources


We have newsletters, journals, and various publications with valuable information about health and education.

Awards & Grants


We offer many awards and grants. Check them out to see if you qualify!